The Canadian Nuclear FAQ &nbsp

by Dr. Jeremy Whitlock
Published in the September 2009 issue of the Canadian Nuclear Society Bulletin, Vol.30, No.3.
---

And That's the Way It Is by Jeremy Whitlock

And now the national nuclear forecast, coast to coast… Unstable conditions continue to persist in most parts of the country. Forecasters warn of unpredictability and advise staying abreast of local updates as they emerge. Powerful winds on the east coast will hang around longer than expected, although steady progress is being made by this system. The eye of this storm, centred at Point Lepreau, promises to renew the landscape significantly, and observers look forward to great improvements never before witnessed on this planet. Meanwhile a similar storm over Gentilly, Quebec, now in its early stages, is gearing up gradually and expected to arrive in full force in two or three years. Observers are eyeing the developments further east with keen interest, as well as a similar system growing over the South Korean peninsula. A tempest continues to rage over Ottawa, bringing with it tornadoes of changing policy that appear as directionless as they are powerful. Anti-nuclear folks taking refuge in the Prime Minister's Office have been forced out into the open, the most ignorant of these getting swept away. Much of the fury of this maelstrom has been directed at Chalk River, a small hamlet on the Ottawa River where a couple thousand souls have weathered a steady onslaught of bad weather since about the mid-80's. Surviving despite dwindling resources and mounting responsibilities, they now find themselves in the battle of their lives. The quest to put an aging reactor back together, so it can once again drift into obscurity as the most efficient producer of radioisotopes on the planet, has called upon all the unique skills and teamwork that makes this laboratory a national treasure. In the meantime, those fighting the flood of latter-day concern in Ottawa have touched off a veritable "Moly Rush": prospectors, young and old, are rushing to stake a claim in the new isotopic bonanza. It took a pair of young Maples, blown down in the early stage of this storm, plus the recent hobbling of NRU, to ignite this fever, and the claims are literally and figuratively all over the map. It is not likely that any will match the NRU's ability to underpin Canada's historical dominance in this market. "You know what they say - 'a reactor in hand is better than two in the bush!' ", declare the Saskatchewan hopefuls, while others point to cutting-edge accelerator technology that may provide a province's needs, or a city.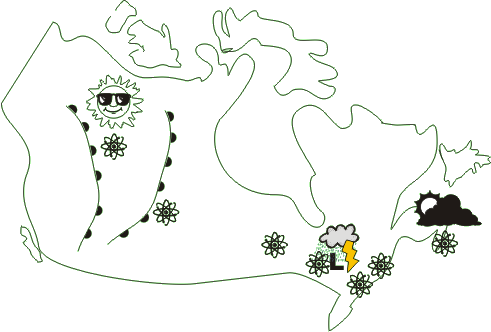 Elsewhere in Ontario, the nuclear winds have stagnated yet again. Repeating the folly of past governments, Ontario cites the economic slowdown in its rationale for luffing the nuclear sails, apparently oblivious to the fact that nuclear decisions and economic activity need to lag each other by seven to ten years. The doldrums have set in on not just Lake Huron and Lake Ontario this time, but even Lake Erie has seen an unexpected squall of massive potential extinguished as quickly as it blew in. Looking to the west, warmer winds continue to waft though the foothills and over the prairies. Storm-watchers in Alberta and Saskatchewan keep an eye on all developing systems, but it may be a while before significant activity is seen in that quarter. Nonetheless, they're doing a rain dance in Saskatchewan and have high hopes for sparking nuclear business higher up the food chain than they've been used to. Over in Wild Rose Country (speaking of sparking), it appears that Alberta has become the latest lighting rod for every quack on the anti-nuclear fear-mongering circuit. Snakeoil salesmen that have long outlived their tolerance in mainstream Ontario and eastward, resonate in town gatherings from Deadwood to Whitemud. From coast to coast, a mixed bag indeed. At least one can be content to think of the mighty jet stream up there, somewhere: an inevitable movement forward to an outcome that supersedes lies, politics and histrionics. The speed of the jet stream, and even its exact location, is often a mystery, but thankfully for the planet it is always there somewhere.