The Canadian Nuclear FAQ &nbsp

by Dr. Jeremy Whitlock
Published in the June 2008 issue of the Canadian Nuclear Society Bulletin, Vol.29, No.2.
---

Survivor: Canada by Jeremy Whitlock

The reality game has never been more exciting than this year in Canada, where tribes are voting, heads are rolling, and ratings are soaring. The year started with the high drama of an all-out "Big Brother" squabble in the House of NRU: Operator and Regulator just couldn't see eye to eye ("I asked you not to leave your dirty underwear on the floor!" "No you didn't!" "Yes I did!"…). Meanwhile Government grew angrier with each episode, while Customer sat in the corner and tried not to get involved. Millions of viewers the world over tuned in for the thrilling climax, as Big Daddy Parliament showed up, banged both their heads together and sent Regulator to the movies to cool down. Then, with the brashness of Sweeps Week, viewers were immediately seguéd to the "Apprentice" intrigue of the epilogue. Head Honcho Regulator, leaving a trail of destruction more reminiscent of "The Sorcerer's Apprentice", proceeded to declare herself a nuclear expert, re-interpret elementary safety concepts, and scare the pants off residents around Chalk River. The familiar "your fired!" finally echoed across TV land and put an end to that silliness. The coming of spring brought the final episode of the long-running Amazing Maple Race, and it exceeded all expectations. For years teams of physicists and engineers had chased around the clock, unearthing clues, deciphering cryptic messages, jumping from one dead end to another in a mad dash to an ever-obscured finish line. Lives changed, marriages buckled, health suffered, careers stalled. In the end the machine worked, and always did, but with a complexity that exceeded the best analytical abilities by a margin not seen since the Montreal Lab conjured NRX with slide rules and ingenuity. The difference now is a regulatory environment that demands the moon, and a designer that promises it. The final episode brought Deus ex Machina upon the whole cheerless affair, lowering the curtain on innovative research reactor development that may not be currently possible in Canada. Meanwhile in the halls of Ontario bureaucracy it's "Last Reactor Standing" as a committee decides what reactor technology to build for the people. The people, of course, already own a technology that they've been benefiting from for half a century. That technology consumes uranium with an efficiency that consumes the competition in trying to come up with bad things to say about it. It is the Arrow that flew, recognized as one of Canada's greatest engineering achievements, and hopefully the paper shufflers in Toronto know they hold a rocket launcher that can bring the whole enterprise down. "Deal or No Deal" continues to draw high ratings in Alberta, and now Saskatchewan, where a mother lode of uranium under one province may be just what's needed to extract a mother lode of oil under the other. Communities and politicians in both provinces are waving the nuclear flag, and the boardrooms atop Calgary's towers have echoed the word "calandria" on more than one occasion. Where, how, and when energy flows under the big prairie sky is a difficult suitcase to pick: electricity growth alone is now outstripping its infrastructure, and that's before any serious weaning off fossil fuels has begun in the oil sands.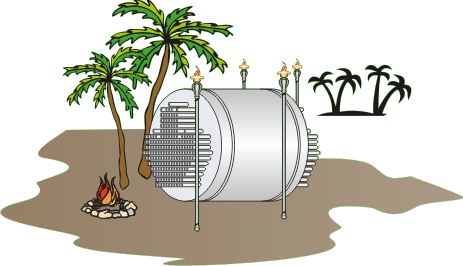 Finally, sneak previews of next season's big hit, "Who Wants to Buy a Crown Corporation?" are attracting attention in all quarters. A spin-off of one of Canada's longest running franchises, "How Do You Solve a Problem Like AECL?", the new series promises twists and turns that may make CBC's squandering of the Hockey Night in Canada theme song look like a Sunday picnic. As bad as it is for ulcers and blood pressure, the new reality craze has its upside: traditional anti-nuclear challengers with their 20th-century set-piece tactics are about as disenfranchised as snowshoe salesmen on Yonge Street. They can still forge beachheads in virgin territory like Alberta, and they'll still reap handsome profits in the parade of Environmental Assessments to come, but the new reality is about using facts to find solutions, not the other way around. If their politics are passé, however, that's not to say that politics in general don't continue to rule on every channel. Reality entertainment has never put a scriptwriter out of work. Stay tuned.