Canada has been a world-leader in the medical applications of nuclear energy since the start of its nuclear program. Canada pioneered the Cobalt-60 cancer therapy technology that became standard medical practice throughout the world (the first Cobalt-60 cancer therapy was administered at the Royal Victoria Hospital in London, Ontario on October 27, 1951), and has also been involved in the development of accelerator-based cancer therapy technology. Currently, about 85% of the world's medical and industrial Cobalt-60 is produced in Canada. The medical-use Cobalt-60 is produced in the NRU research reactor at AECL's Chalk River Laboratories, while industrial-use Cobalt-60 is produced in selected CANDU power reactors (in these units some adjuster rods are made of Cobalt-59 for this purpose). Furthermore, over half the Cobalt-60 therapy machines and medical sterilizers in the world were built in Canada, treating over 16 million patients yearly.
Canada is also a leader in the production of medical isotopes, including being the largest supplier of technetium-99m (derived from molybdenum-99), the most commonly-used medical isotope. Production is by AECL in the NRU reactor; this is then shipped to MDS Nordion, a global supplier of radiopharmaceuticals based in Kanata, Ontario (near Ottawa). There are more than 4000 Mo-99 treatments daily in Canada, and 40,000 daily in the US. Canada nominally produces about 30-40% of the global supply of Mo-99.
Food Irradiation is a process for killing micro-organisms in food using radiation. When applied in prescribed doses to certain food products, the process reduces the risk of spoilage or poisoning, without altering the products' taste, texture, odour, or nutritional value. Food Irradiation has been approved for use in 40 countries, and is endorsed by health organizations such as the UN World Health Organization, the American Medical Association, the Institute of Food Technologists, the Science Council of Canada, Health and Welfare Canada, and the USA Food and Drug Administration.
Food Irradiation has certain advantages over conventional food preservation techniques. It doesn't leave additives in the product, as some chemical preservatives do. Fruits and vegetables retain their taste, texture, and nutritional value, unlike the results of conventional heating, freezing, additives, drying or powdering. It is proven effective in neutralizing common food-borne pathogens such as Campylobacter (for which it is the only known control in poultry meat), Cryptosporidium, E. Coli (for which it is the most effective control in ground beef), Listeria, Salmonella, and Toxoplasma.
As with the sterilization by radiation of medical and pharmaceutical products, which is common practice, Food Irradiation does not leave residual radioactivity in the treated product. The radiation is simply energy that passes through the food, kills bacteria and other micro-organisms, and dissipates. The only residual products are small amounts of food molecules within the food that have been altered by the passing energy. However, these "radiolytic products" have been tested by the FDA in the United States, and found to be the same or similar to the processing byproducts found in foods that have not been irradiated [1]. There is no food preservation process that does not leave traces of its use.
The radiation used to irradiate food can be in the form of X-rays, high-energy electrons, or gamma rays from Cobalt-60 or Cesium-137. Canada is a world leader in industrial irradiation technology, including being the largest global supplier of irradiators. Cobalt-60 is produced commercially in selected CANDU reactors (see related FAQ).
In Canada the following food items have been approved for irradiation: potatoes (sprout inhibition), onions (sprout inhibition), wheat and wheat flour (disinfestation), spices (decontamination), dried vegetable seasonings (decontamination), herbs (decontamination), and mangoes. The following food items are currently being reviewed in Canada for irradiation: chicken, red meat, shrimp, citrus, small fruits, fresh figs and dates, dried fruits and dried vegetables. [source: MDS Nordion]
Further information on Food Irradiation in Canada is available on the MDS Nordion website.
---
[1] "FDA Announces Approval of Meat Irradiation," Nuclear News, 40, 1, p.55, 1998 January.
Fusion is a form of nuclear energy with the potential to liberate massive amounts of heat by forcing atomic nuclei together (fusion), rather than splitting them apart (fission). One of the most efficient fuels for fusion power is a mix of heavy hydrogen isotopes - deuterium and/or tritium - implying that ordinary water would become a primary fuel source (deuterium can be extracted from ordinary water - see related FAQ - while tritium can be bred directly from lithium by the fusion process itself). Aside from an abundant fuel source, fusion holds the additional promise of relatively clean operation, and relatively short-lived radioactive waste production.
Currently the science and technology of fusion power is in a highly developmental stage around the globe, largely due to the extreme conditions required to make fusion viable. Since the temperatures needed to bring hydrogen nuclei together are typical of those found on the Sun, a remarkable feat of engineering is required to both contain and control the fuel, as well as extract useful energy. The most promising concept is "magnetic confinement", which suspends the hot hydrogen fuel (in the form of an ionized plasma at such temperatures) within a strong magnetic field. The popular apparatus for achieving this confinement is a toroidal structure called a tokamak.
The cost of a comprehensive fusion research and development program exceeds the capabilities of most countries, including Canada. However, Canada is able to contribute to the greater international effort through its experience and expertise in the area of fusion fuels. This is because fusion fuels are, coincidentally, also associated with Canada's CANDU nuclear fission industry. Deuterium is the main component of heavy water, while tritium is a natural byproduct of fission in a heavy-water reactor like the CANDU design. This country has much to offer, therefore, in the area of the production, handling, and characterization of two of fusion's essential ingredients.
The bulk of Canadian fusion fuels research was conducted, until the loss of federal funding in 1997, under the Canadian Fusion Fuels Technology Project (CFFTP). Canada also had two experimental tokamaks, the tokamak de Varennes, operated until recently by the privately-funded Centre Canadien de Fusion Magnetique (CCFM) in Quebec, and the STOR-M tokamak still operated by the University of Saskatchewan.
The Next Step: Iter
Additionally, Canada was, until 2004, a partner in the Iter Project ("Iter", pronounced "eater", is Latin for "the way"), a multi-billion-dollar international proposal to build a prototype fusion reactor. Iter will demonstrate all the essential components, systems, and processes used in a full scale demonstration fusion power reactor. The subsequent demonstration step is scheduled to follow the Iter program, by about 2040.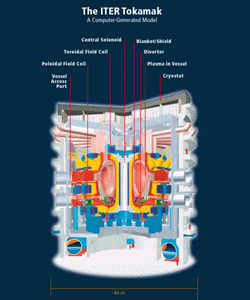 The main players in the Iter project are the Japan, Russia, the European Community (EU), the United States, South Korea, India, and China.

The benefits of locating ITER within Canada (the proposed site was next to the Darlington Nuclear Power complex on the shore of Lake Ontario about an hour east of Toronto, Ontario) included the availability of abundant real estate near a major workforce market, an existing service, electrical, and waste-management infrastructure on an existing licensed nuclear site, and a plentiful supply of fuel on-site – obviating the requirement to transport tritium. These advantages led to significant projected cost savings (measured in billions of dollars) if Iter had been sited in Canada.

Canada withdrew its participation in the Iter Project in 2004, after escalation of the competitor siting bids left Canada's bid in a non-competitive position. Canada's bid had been co-ordinated by Iter Canada, a consortium of private sector, labour, and government organisations.

In 2005 a decision was made to site ITER in Cadarache, in the south of France. Construction will continue for ten years, and operation is expected to last thirty years. The total cost of construction, operation, and decommissioning would be about €10 billion.
---
Further Reading...
| | |
| --- | --- |
| &nbsp &nbsp | |
©2011 Jeremy Whitlock. Disclaimer applies.